AAVV - "That's the Way vol.1" (2017)
€

10.00
On sale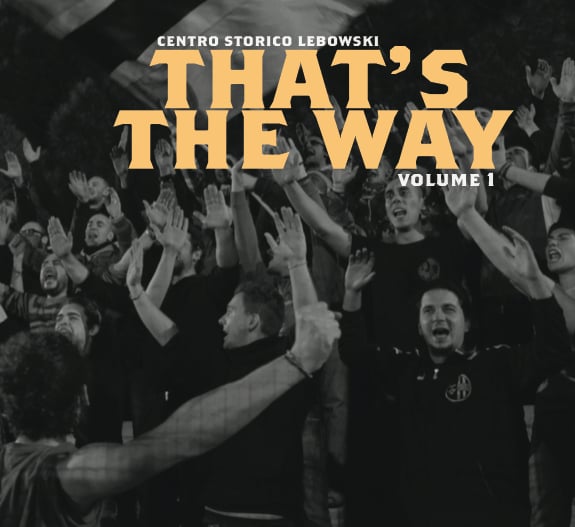 La musica indipendente a sostegno della Scuola Calcio LEBOWSKI
Esce oggi "That's the Way - Volume 1",
la compilation edita da Black Candy Records per l'Associazione Sportiva Dilettantistica Centro Storico Lebowski di Firenze.
Centro Storico Lebowski e Black Candy Records possono sembrare, ad un primo e superficiale sguardo, due realtà molto diverse tra loro: una società sportiva dilettantistica e un'etichetta discografica indipendente hanno all'apparenza ben poco in comune. All'apparenza, appunto.
In entrambi i casi, quanto è stato costruito in più di dieci anni di attività è stato reso possibile solamente dallo sforzo e dalla pazzia di persone che hanno marciato senza fretta ma senza sosta nella stessa direzione, a volte rallentando a causa degli infiniti ostacoli che si possono trovare in un così difficile percorso, ma sempre continuando uniti il proprio cammino. Queste due realtà, oggi, possono essere viste come due rette parallele che affrontano il proprio percorso fianco a fianco. Questo è il perché di questa raccolta: Black Candy e Lebowski insieme per provare a fare qualcosa di grande.
Qualcosa di grande come la compilation "That's the Way - Volume 1", il cui ricavato servirà a sostenere le spese per la scuola calcio. Un sentito grazie va a tutte le band e a tutti voi che partecipando a questo progetto renderete più vicino il nostro obiettivo.
TRACKLIST:
01. SOVIET SOVIET - ENDLESS BEAUTY
02. PLATONICK DIVE - SPOKEN NOISE
03. THE VENKMANS - CRITICAL
04. APPALOOSA - DELTOID
05. PLASTIC MAN - NORTH POLAR LAND
06. GO!ZILLA - MELTING
07. THE VICKERS - SHE'S LOST
08. GENERAL STRATOCUSTER & THE MARSHALS - THANK YOU BOB
09. ALTRE DI B - ZOFF
10. THE HACIENDA - WHY WOULD YOU COME BACK?
11. MALEDUCAZIONE ALCOLICA - NELLE MANI DEI BAMBINI
12. MALASUERTE FI SUD - CS LEBOWSKI
13. FINE BEFORE YOU CAME - VIXI
14. ALFATEC - LAST DOSE
15. GIUDA - NUMBER 10
16. THE ZEN CIRCUS - POLISII PAMPUTATAAS
17. DISQUIETED BY - MAMI MAMI CORAZON